Headteacher's Welcome
Croesawiad y prifathro
Thank you for visiting our website. It is my pleasure to introduce Flint High School to you.
Flint High School is an 11-18 co-educational comprehensive school serving Flint and the surrounding areas.
Our vision is that every pupil is given every opportunity to flourish, no matter what their starting point or what their interests are.
Our aim is for every child to head into the world confident and ready to contribute to their community. Our motto 'Learning to excel' challenges our pupils to take an active role in their education and to take responsibility for it.
Our aims are to:
Foster a strong learning partnership between the school and the pupil.
Work together (parents, pupils, staff, governors, community) to help every pupil flourish.
Believe in every pupil's potential to excel
Support all pupils on their learning journey in a caring and disciplined way
Secure excellence through high quality teaching, extra-curricular opportunities, support and guidance for pupils at key milestones.
Ensure that all learners feel safe, happy, secure and respected.
Children have one chance in education. They deserve the best and our role at school is to ensure we provide them with this. We have the highest expectations of and for our pupils. We will always focus on improving the quality of the education our young people experience and place great importance in working together in partnership with pupils, staff and parents.
Visitors to our school are always impressed with the welcome that they receive from our pupils and from our staff. Educating children is an immense privilege for us at Flint High School. If you are a parent of a student already at the school, thank you for entrusting us with that job. We won't let you down! If you are considering sending your child to Flint High School or would like to find out more do get in touch. We are open to visitors every day.
I look forward to meeting you.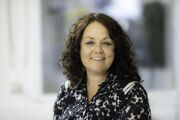 Claire Millington
Headteacher